Should illustrations be limited to books for children? Most people think so but not Rebecca Dautremer (Gap, France, 1972), illustrator and considered to be a "best seller" for the number of sales generated in her country, and author of books for all ages specially for those who shun the childish books perhaps pretentious of their imaginative skills.
Rebecca is in Madrid for the Book Fair to present her recent book "Alice in Wonderland" that calls attention for its illustrations, tact and even smell.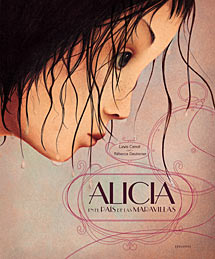 For this author, an image not only changes but also enhances the vision of the text. It makes the reader see from another perspective.
Source: El Mundo
31 of May, 2011