The Japanese art of raising bonsai trees is a beautiful way to infuse greenery into indoor spaces. But artist Takanori Aiba takes the art to a new level with his incredibly intricate series of bonsai castles. The Japanese artist carves miniature masterpieces that weave in and out of the miniature trees, creating cohesive architectural marvels that burst forth with life!
Treating each tiny Bonsai as if it were a deep-rooted full-sized tree, Aiba creates incredible buildings that wind around the boughs and branches. Using copper line, epoxy putty, plastic, resin and stone clay, he fashions detailed buildings, bridges, balconies and towers. Using the bonsai trees as the foundation, the dioramas are inspired by the unique shape of each tree, creating both vertical and horizontal landscapes and buildings.
Aiba's first few creations relied heavily on the function of the bonsai as a tree. The plants hold tree houses, and the leafy branches of the bonsai poke out of the tops and cascade to the floor. Each branch is adorned with patios, umbrellas, and tiny strings of lights, creating an incredible dwelling for a miniature Swiss Family Robinson. Source:
Inhabitat
by Lori Zimmer, 02/19/12. Source of images:
Cúanta Risa
.
For nearly a decade since the late 1970s artist Takanori Aiba worked as a maze illustrator for Japanese fashion magazine POPYE. The following decade he worked as an architect and finally in 2003 decided to merge the two crafts—the design of physical space and the drawing of labyrinths—into these incredibly detailed tiny worlds. Using craft paper, plastic, plaster, acrylic resin, paint and other materials Aiba constructs sprawling miniature communities that wrap around bonsai trees, lighthouses, and amongst the cliffs of nearly vertical islands.
Source of photos: Google Takanori Aiba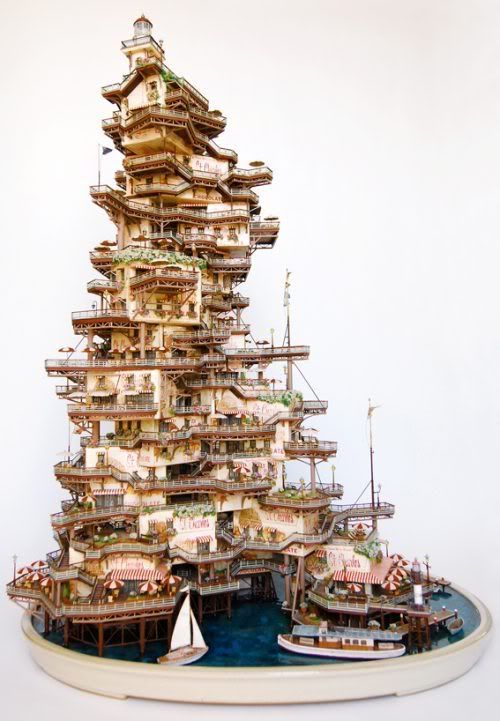 Truly amazing bonsai tree castles in a magical creation of a miniature living world.