In the Restaurant called Modern Toilet of Taipei, nothing is what it seems, or better yet what you see is not the reality. Although you see the diners seated on bath seats or the tables seem to be washroom sinks, they are not eating in a bathroom facility but in an authentic restaurant with a theme inspired on bathrooms at the time that they designed the sitting room.
The ambience is similar to a giant service room that has more than 100 toilet seats, whereas the tables are made of glass and there are urinals along the walls.
Want to know more? the plates are small spittoons and the drinks are served in urinals!!! And so it could not be otherwise that toilet paper is used for cleaning your mouths.
I first learned about this restaurant, when my nephew with his wife shared the picture of their eating experience in one of their trips to Taiwan on occasion of the wedding of their friends.
Toilet Story started from a group of "muckrakers" following their dreams. Here is their story: It all started when one of us was reading the manga, Dr. Slump on the toilet – and the rest is history. In the beginning, we mainly sold ice cream – a big pile of chocolate ice cream sold in containers shaped like a squat toilet. This humorous spin became a great success.After much planning from all of our partners, we finally took the first step towards realizing our dreams in May 2004 with the launch of the "Marton Restaurant". The restaurant immediately caused a stir in Taiwan with its humorous "out-there" design. At the start, many people peered in at the restaurant trying to figure out what we were selling – then had a big smile on their face when they finally worked it out. By continuing to come up with great ideas and making improvements on old ones, we have expanded over the past few years from just ice cream into a fully-fledged theme restaurant with stores all over Taiwan. Our stores have also won the support of devoted fans as well. Future Business Philosophy and Direction To expand the variety of our stores, in April 2006 all Marton restaurants around Taiwan changed their names to "Modern Toilet Restaurant". In the future, a greater range of washroom facilities will greet new customers and old friends alike. We will also continue to do our best to surprise and entertain everyone! Your comments are welcome! Source:
Modern Toilet
.
Here are the pictures: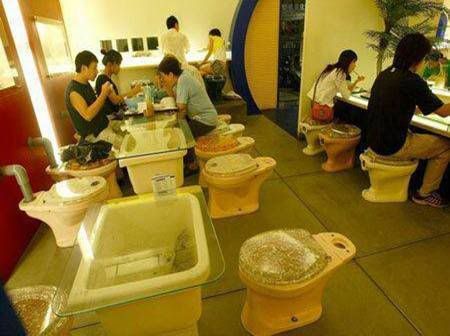 Source of information:
The most unusual restaurants in the world.
Source of images:
Modern Toilet
.
I know that there are weird restaurants, but this so far for me is the weirdest and the most unappetizing place to go for food or drink. Simply disgusting for me. Eating is not only for the good of its taste but also the presentation should be catching the eyes before even savoring the food. But then we live in a free world...