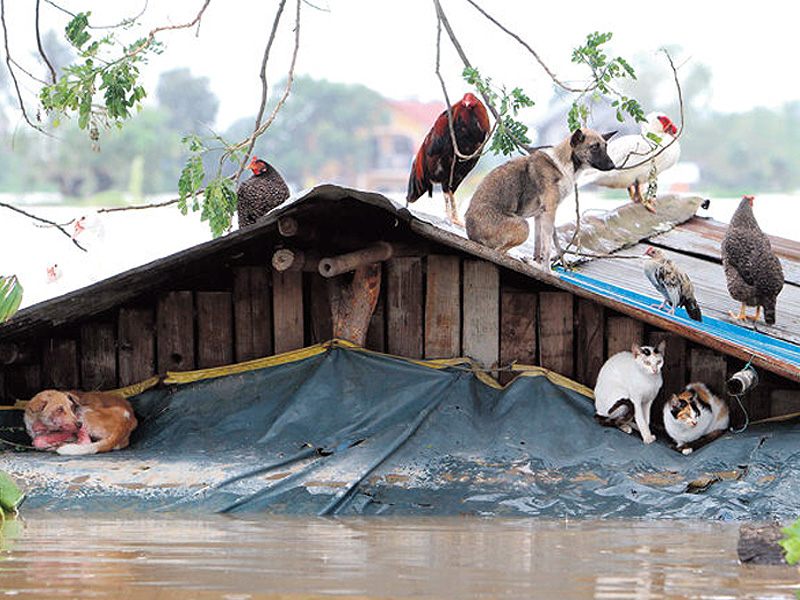 Animals follow their instincts to survive
The rooftop serves as veritable Noah's Ark of a few animals—cats, dogs, chickens, ducks and a pigeon—after the owners abandoned the submerged house in Gugo village, Calumpit, Bulacan. Unfortunately, rescue workers could only evacuate humans. LYN RILLON…
Source:
Inquirer.net
While people are being transported by boat.
Moving away from typhoon "Quiel"
From June to December every year, Filipinos have to brace themselves against the ruthless typhoons that affect several regions in the Philippines. Although the government has become aware of the importance of avoiding loss of lives through evacuation of endangered areas, the citizens are hesitant to abide mainly because of the fear of looting of what can be their only possessions left behind by the aggressive trail of the typhoons. Likewise amidst the warning of being swept by the passing of the typhoon, some people think that the government is exaggerating and that they would be better off holding tight to each other and not move away. Neither would fishermen allow themselves to lay aside their daily tasks of going into the sea to lose their earnings for the day.
But people learn eventually, even if through the hard way.