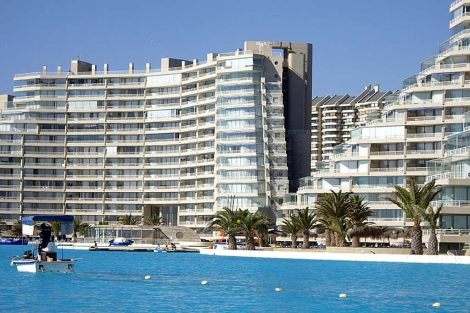 Artificial lagoon where you can kayak
In Algarrobo, a coastal area situated a little bit more than one hour by car from Santiago (Chile) is where you can bring your kayak, a sailboat or even a boat to navigate because the lagoon is big enough, although it is actually the biggest swimming pool in the world, that is, until now.
The artificial lagoon, the emblem of the privileged urbanization in San Alfonso del Mar, is 1,012 meters long and contains 250 million liters of water of blue turquois sea color, with its temperature being maintained the whole year at 26 ºC.
This small lake occupies 8 hectares, the equivalent of 6,000 private pools each measuring 8 meters long. The Crystal Lagoon Company, spent 2,5M dollars and five years of work in constructing this engineering wonder in the hotel industry.
For years, Fernando Fichmann, president of the Chilean company, had the dream of constructing a gigantic real estate project that would lodge the biggest swimming pool in the world.
Not only did he realize his dream but also, obtained for the lagoon the Guinness Award for the biggest in the world containing fresh water. It cumplies with the legal rules on drinking water, for which reason it is considered as a swimming pool.
Jorge Barreno | Algarrobo (Chile)
El Mundo.es